Are you looking to transform your WordPress site into a fully functional membership site? Choosing the right WordPress membership plugin is crucial to creating a better platform.
A membership plugin is designed to help you create memberships that give people access to exclusive content.
But, how does this boost your bottom line?
A membership plugin makes it easy to:
Create email lists, so you can send your customers coupons or updates
Share free content to create a loyal following
Charge for access to members-only content
In this post, we share 14 of the best WordPress membership plugins to get your site up and running.
How to Choose a WordPress Membership Plugin
With all of the WordPress membership plugins out there, how do you choose the right one for you?
There are 3 key areas to consider: features, compatibility, and ease of use. Let's talk about each of those areas a little bit.
Features – When it comes to membership plugins, you can purchase a lightweight WordPress membership plugin that's fast but only gives you the basics. Or you can get a full-feature plugin to get everything you need at your fingertips.
Compatibility – You can check if a plugin is compatible by testing it on a staging site. If it's compatible with your WordPress theme and plugins, you can install the plugin on the live site.
Ease of Use – You'll also need to be sure it's easy to use the interface or dashboard. It should also be simple to integrate payment options like PayPal or Authorize.net.
Several top-notch WordPress membership plugins have been built with these factors in mind.
Here are 14 of our favorites:
Best WordPress Membership Plugins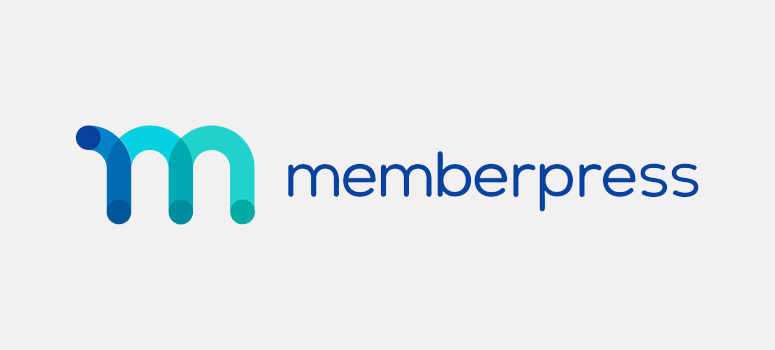 MemberPress is an all-in-one membership plugin for WordPress users that makes it easy to transform your current website into a fully-featured WordPress membership site.
With the MemberPress plugin, you can create an unlimited amount of memberships (and customize all of them, including the price members pay, who can become a member, and how long a member's trial period will last).
It also pairs great with plugins like bbPress that encourage your users to interact with one another in forums and discussions. This will help turn your membership site into a thriving online community.
Then, you can place your members into groups, control their upgrade paths, and create dynamic pricing pages. It's easy to send emails to your members as well. For instance, you can use email integration to advertise holiday promos or flash sales.
MemberPress also gives you control over your coupons. You have the power to control expiration dates, select a discount percentage or fixed amount, decide which products they apply to, or change the coupon code (normally automatically generated) to a customized code.
The MemberPress plugin handles payments automatically, as long as you have one payment method set up and one product created. The plugin also has built-in support for payment gateways like PayPal, Stripe, and Authorize.net.
Features:
Integrates with Constant Contact, Mailchimp, AWeber, GetResponse, etc.
Includes content dripping and contact access expiration
Email notifications to keep you up-to-date with member info
Content restriction rules to protect posts, pages, images, videos, etc.
Powerful LMS features for selling online courses
Integrates with Easy Affiliate to create your own affiliate program
Simple payment gateway integration for physical or digital products
Customizable checkout
Pricing:
Pricing starts at $149/year.
Get started with MemberPress today!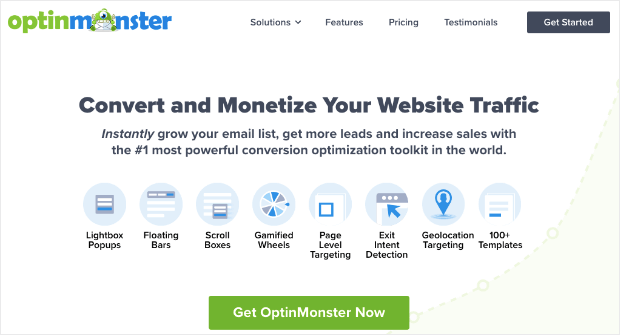 OptinMonster is the world's #1 conversion toolkit that lets you exponentially grow your user base for your membership site without having to grow your traffic.
Building a membership site is great, but only if you actually have members who use it. That's where OptinMonster comes in.
With OptinMonster, you can get more email subscribers, increase your revenue, and, in this case, add more new members to your site.
This is important because as you get more traffic that includes non-members, you need a reliable system for converting them into your community. You could even embed registration forms into clickable popups to improve UX and see more growth.
Check out how Expat.com grows its community by 30,000 members every month using OptinMonster's personalization features.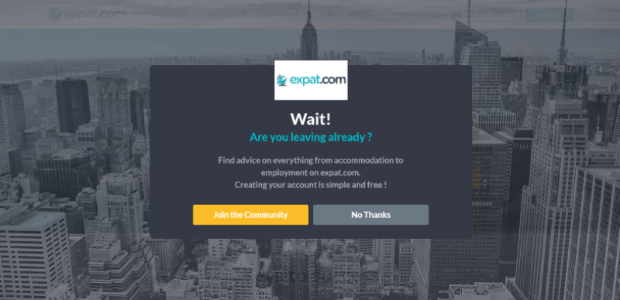 You can use OptinMonster to create conversion optimization campaigns that work with your site's content to grow your community. And since we have so many campaign types, you aren't limited to just 1 approach.
You can create Exit-Intent® popups, Slide-In boxes, Content Lockers, and many more that have been proven to drastically increase conversions.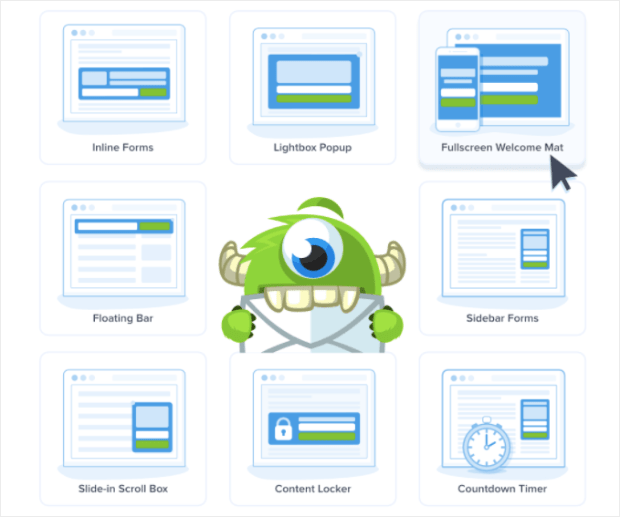 It also has tons of templates and a drag and drop visual builder that makes it easy to create stunning campaigns in minutes.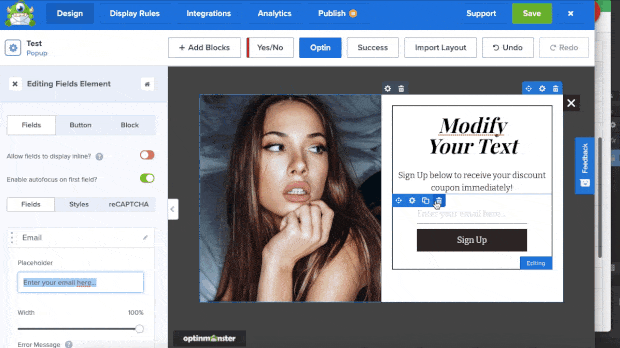 And with advanced segmentation and powerful targeting features, you can control when, where, and to whom your campaigns appear.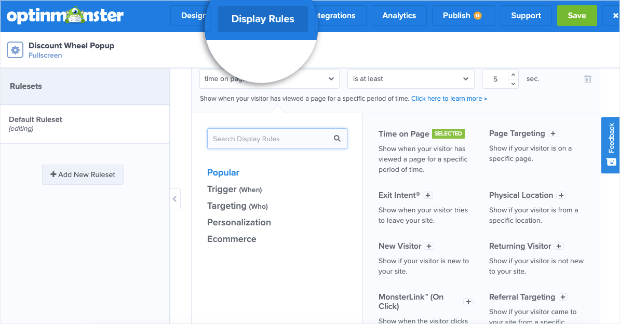 It's no wonder that OptinMonster is used and trusted by over 1,000,000 websites.
Features:
Multiple campaign types to get you more members
Over 50 pre-made templates that work across desktop, tablet, and mobile devices
Most powerful targeting and trigger options than any other software on the market
Native integrations for over 30 email service provides (and can be easily integrated with any email service provider)
Detailed analytics reporting to help you make better data-driven decisions about your conversion strategy
Pricing:
Pricing starts at just $9 per month and allows you to scale as you grow.
Get Started With OptinMonster Today!
BONUS: Done-For-You Campaign Setup ($297 value)
Our conversion experts will design 1 free campaign for you to get maximum results – absolutely FREE!
Click here to get started →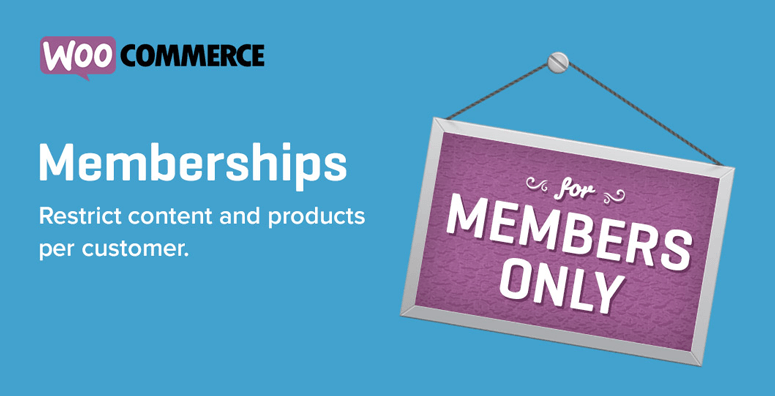 WooCommerce Memberships is an addon for WooCommerce that lets you limit content so that it's only available to registered members of your site. You can set up subscriptions for recurring or one-time payments.
If your membership site is going to accept recurring payments, you'll also need the WooCommerce Subscriptions plugin.
In WooCommerce Memberships, you can create a purchasing club for your eCommerce store, which means members have to sign up to be in the club before they can make a purchase. You can even make them sign up to get access to purchase exclusive items!
You'll be able to use the email addresses you've collected by growing your membership site to email notices to your members about loyalty discounts or holiday sales.
The WooCommerce membership plugin also allows you to gift a membership alongside the sale of one of your products.
It may also be reassuring to know if you're not satisfied, the WooCommerce membership plugin offers a 30-day money-back guarantee.
Features:
Integrates with Constant Contact
Invite-Only members area
Content dripping
Free shipping for members
Easy communication with members
Pricing:
Pricing starts at $149 for a single site.
Click here to get started with WooCommerce Memberships.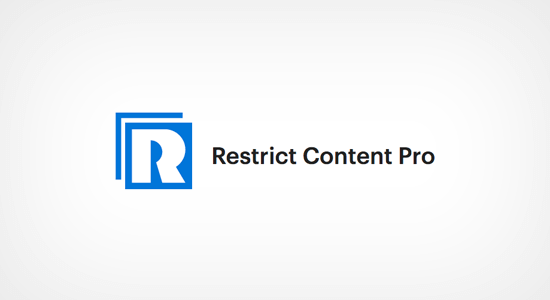 Restrict Content Pro is a lightweight WordPress membership plugin that's created by the team that built Easy Digital Downloads. If you feel less confident about setting up your membership site, Restrict Content Pro could help: the plugin offers notes to guide you through the setup pages.
This plugin also comes chock full of features to regulate content access, and the developers are constantly adding new features.
Restrict Content Pro offers plenty of options for payment integration, including Stripe, Braintree, 2Checkout, Authorize.net, PayPal, and PayPal Standard and Express. The plugin can also handle multiple payment options at once.
To "try before you buy," check out Restrict Contents Pro's live demonstration site.
Features:
Different membership levels
Customer dashboard, so members can view and manage account details
Content dripping
Unlimited subscription packages
Membership emails
Can offer discounts on membership subscriptions
Pricing:
Pricing starts at $99/year for the Personal plan.
Get started with Restrict Content Pro right here.

aMember is a comprehensive membership plugin that was built in PHP but allows for integration into WordPress. Therefore, one of the downsides of using aMember as your membership plugin is that you may experience compatibility issues with other WordPress plugins.
This membership plugin comes with unlimited membership levels, 200+ payment options (including PayPal, Stripe, and Authorize.net), full-featured membership management, and more.
Features:
Unlimited membership levels
Full-featured membership management
Translated into 6 languages
Longstanding plugin (17+ years)
Pricing:
Pricing starts at $149.36 for a lifetime license.
Click here to get started with aMember.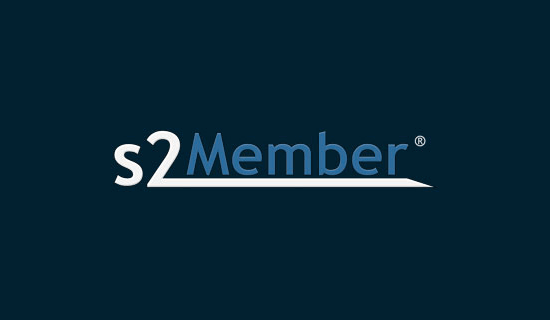 S2Member is another free WordPress membership plugin. The free version is a bit limited but gives you a good starting point.
With the pro version, you'll get access to one of the most comprehensive membership plugins on the market. S2Member includes features like content dripping, user roles, 1-step registration and checkout, unlimited paid membership levels, and so much more.
Features:
Paid member subscriptions
Easy-to-accept recurring payments
Includes PayPal integration in Framework version
Create subscription levels for free memberships or paid plans
Stripe, ClickBank, PayPal Pro, and Authorize.net integrations are available in Pro
Coupon codes and coupon code tracking
Gift certificate codes
Customizable pro-form templates
Pricing:
Free plan is available; pricing starts at $89.
Get started with S2Member today.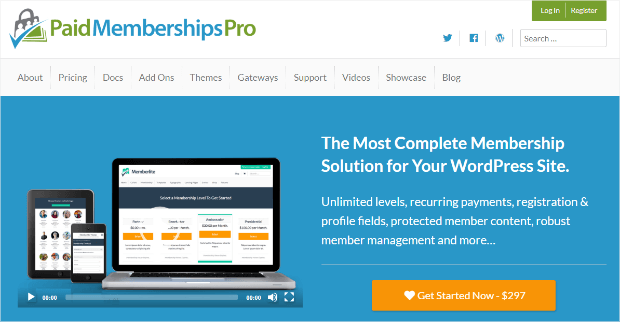 Paid Memberships Pro is a free WordPress membership plugin that comes with a great set of features. Plus, it's extendable through add-ons.
With Paid Memberships Pro, you can set up unlimited access levels with flexible pricing to create a WordPress Membership site. It lets you offer coupons and discount codes, drip content, and more.
Those using this plugin successfully manage thousands of members, accept payments for digital courses, and create social communities for special interests, among other things.
The downside to this plugin is its user interface isn't easy to use and can use improvement.
Features:
Integrates with Constant Contact
Pay per post/view
Compatible with: PayPal, PayPal Pro/Express, 2CheckOut, Stripe
Allows for acceptance of recurring payment
Members-only product discounts
Pricing:
There's a free version of this WordPress membership plugin. Premium plans start at $297.
Click here to get started with Paid Memberships Pro.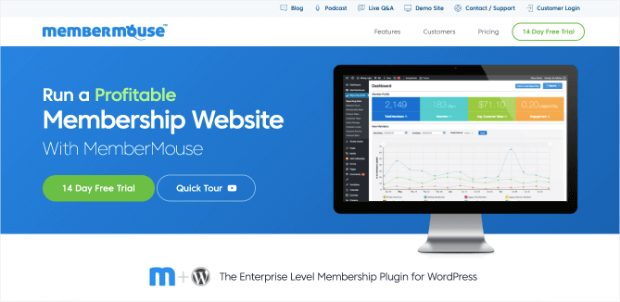 MemberMouse is one of the best WordPress membership plugins that cater to the not-so-technologically savvy among us. It lets you create membership levels and bundles, making it easy for existing members to purchase one-off items.
You can also create trial offers and coupons, as well as integrate MemberMouse with the best payment gateways and email marketing providers to maximize your results.
One thing to keep in mind is that this platform seems to be getting outdated in terms of what they offer. There are other platforms that have a better interface and tons of features at more affordable rates.
Features:
Shortcode library
Easy to configure checkout
Time-release/drip content
Single-click upsells
Automatic downsells
Split-testing
Prorated upgrades
Pricing:
Pricing starts at $29/month for the Builder plan. This gives you 5,000 members, their core features, and email support.
Then you have the Advanced plan at $79/month, giving you 50,000 members, an advanced reporting suite (with additional features), and priority email support.
Finally, you have the Premium plan at only $199/month. This lets you have 100,000 members, all core and advanced features, a Sticky.io integration, and priority email/phone support.
All plans can be purchased at a lower rate for annual subscriptions.
Click here to learn more or get started with MemberMouse today.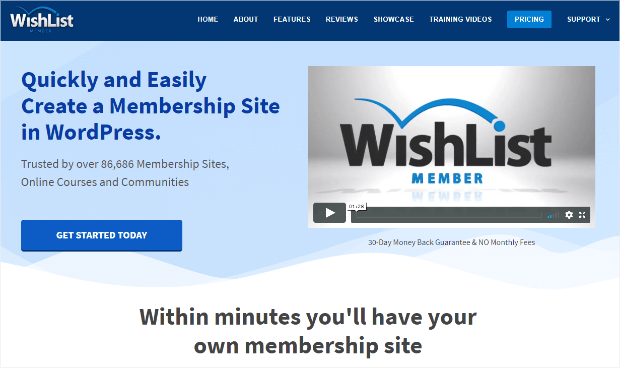 WishList Member has a lot to it—you can create unlimited membership levels, protect content with a single click, easily accept payments, integrate with your email marketing service, and much more. Plus, it comes with tons of documentation like tutorials, videos, and guides that will help you get the most out of it.
The problem with this platform is that there are too many options that it becomes overwhelming and confusing.
Features:
Protect content and set pricing with just a couple of steps
Offers tons of integrations with email marketing providers, payment gateways, and other productivity tools
Easily drip content
Developer tools like REST API & WP template tags
Membership statistics at a glance
Unlimited membership levels and flexible membership options
Pricing:
Pricing starts at $197 for a single site license.
Click here to get started with WishList Member.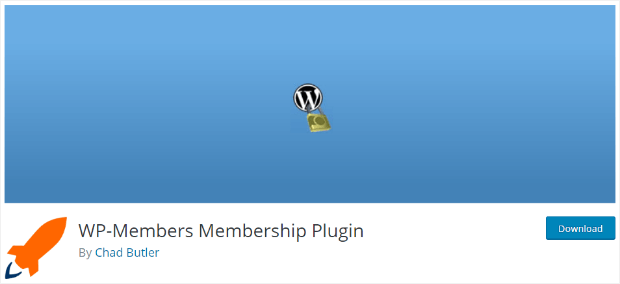 WP-Members is another free WordPress membership plugin that makes it easy to restrict access or hide pages, posts, and custom post types. It keeps the registration process on the site's frontend, so it's part of your content instead of taking users to the WordPress login page.
Keep in mind that the free version has very limited support. Plus, users have complained of facing many issues with the plugin in the past.
Features:
Requires no modifications to your existing WordPress theme
Create custom registration and user profile fields
Add post excerpt teaser content automatically
Create powerful customizations with 120+ action and filter hooks
Pricing:
WP-Members is a free plugin to create membership sites but with very limited functionality. Paid plans start at $59/year (lifetime is $499).
Click here to get started with WP-Members.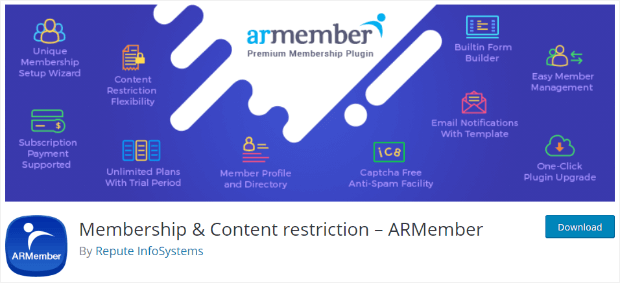 ARMember is a free WordPress membership plugin that comes with a wide range of features. You can create unlimited membership levels, restrict content with 1 click, drip content, and more. It also comes with a built-in form builder that lets you create custom forms and signup pages.
The downside to this plugin is that customer support is on the slow side.
Features:
Create free and trial memberships
Ability to upgrade, cancel, renew, or downgrade memberships
Social login forms
Badges and achievements
Drip/scheduled content
Pricing:
This WordPress Membership plugin is free. The premium version is $43.
Click here to get started with ARMember.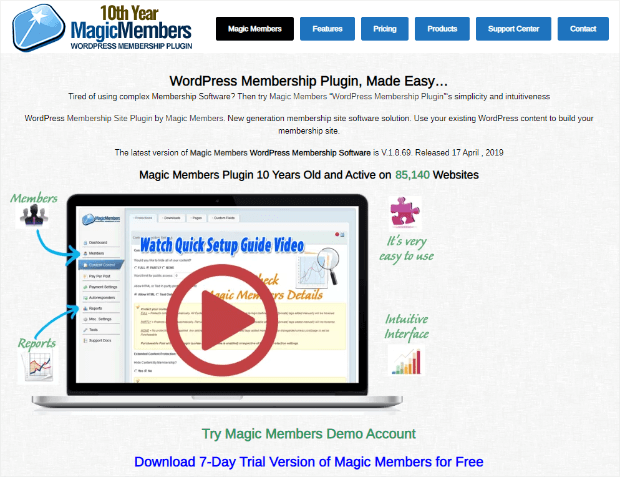 MagicMembers is a great tool for selling online courses, drip content, and offering products on a pay-per-view basis, among other useful features.
When you use this plugin, it could take some time to get used to it and understand its functions.
Features:
Tons of payment gateway and email autoresponder integrations
Flexible membership options
Drip/schedule content delivery
Controlled and partial content display
Pay-per-view and pay-per-post access
Forum integrations
Pricing:
Pricing starts at $97.
Click here to get started with MagicMembers.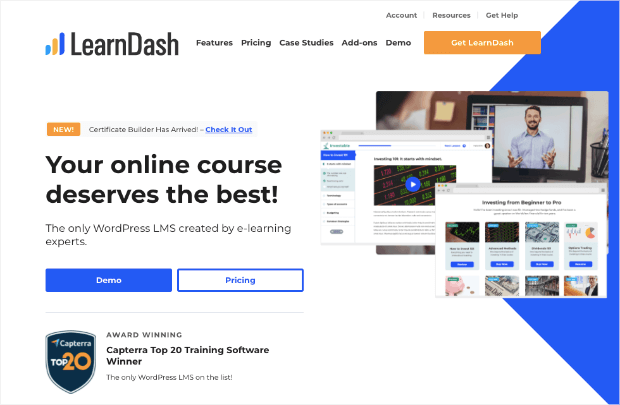 LearnDash is the #1 LMS (learning management system) in the market. It isn't exactly a run-of-the-mill membership plugin. Instead, it lets you easily create and manage online courses with membership plan options.
LearnDash's course builder is the best in the industry to create your own branded learning portal with a distraction-free environment for your learners.
You get complete control over who gets access to your courses and for how long.
Added to that, LearnDash has a drip-feed feature that allows a user to view the next module only once they complete the current lesson.
LearnDash lets you set up automated permission levels to grant users access to videos, study material, assignments, forums, and more. It also awards certificates and badges as they complete milestones.
Plus, you can curate courses and exclusive benefits to create packaged deals and membership plans. So as soon as someone enrolls as a member, they'll automatically get access to every course that's associated with the membership plan.
LearnDash also integrates with popular membership platforms. You can combine it with the MemberPress plugin to take your membership benefits to a whole new level.
All of these features and more make bbPress one of the most well-known and frankly best WordPress membership plugins on the market.
Features:
Sell one-time payment or subscription courses
Integrates with popular payment gateways and marketing apps
Easy course and group management
Detailed reporting on enrollment, performance, and progress
Pricing:
Pricing starts at $159.
Click here to get started with LearnDash.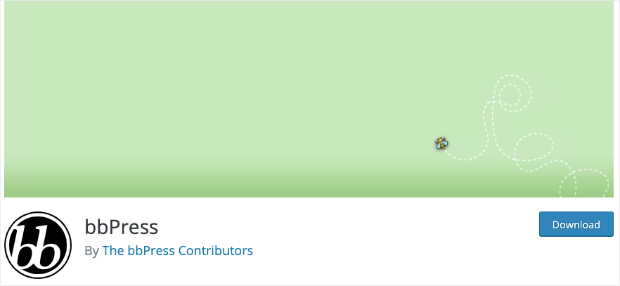 bbPress is a must-have WordPress plugin if you're running a membership site.
It lets you create forums and discussion boards that are easy to create and manage. You can grant access to these forums only to those who are signed into their membership accounts.
At its core, bbPress is a forum software created by the same team that made WordPress. But when added to your membership site, it can do much more than that. You can have your members automatically added as forum users and grant them access to the dedicated forum for their plan.
bbPress also allows you to redirect users to a custom URL after they log in. And you get full control over creating topics and moderating comments and replies.
There are options to allow or disable anonymous responses, and you can create different user permission levels such as spectators, participants, and moderators.
Features:
Simple set up and installation
Easy to moderate and clean forums
Fully integrated admin area
Create multisite forms to divide audience
Pricing:
bbPress is free.
Click here to get started with BBPress.
Which Is the BEST WordPress Membership Plugin?
We're big fans of MemberPress and we've found that it's the best WordPress membership plugin you can have for your website.
It has all the features you need, as well as excellent documentation and support. MemberPress is also the most comprehensive WordPress membership plugin.
Whichever WordPress plugins you choose, now's the time to create your thriving web-based community.
Looking for more resources? We suggest checking out these other awesome posts:
Those articles will have even more information on how you can expand and monetize your WordPress site.