Has your marketing strategy evolved to better serve your mobile audience? If you're not using geomarketing then you're missing out on a major conversion booster.
According to Statista, there are around 2.3 billion smartphones on the planet. That's likely to be closer to 3 billion by 2020. And data from Kissmetrics reveals that around 63% of smartphone owners regularly use apps that require location data.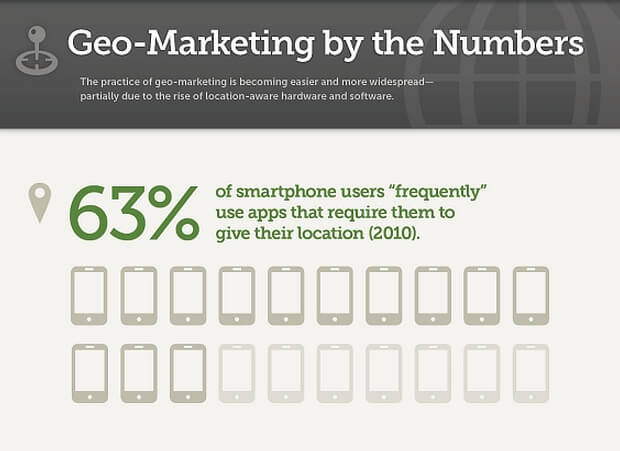 Even more compelling, Google's research shows that 61% of smartphone owners prefer to buy from sites that customize information for their location. Mobile device users are also primed for immediate action, with searches for "open now" tripling in the last two years.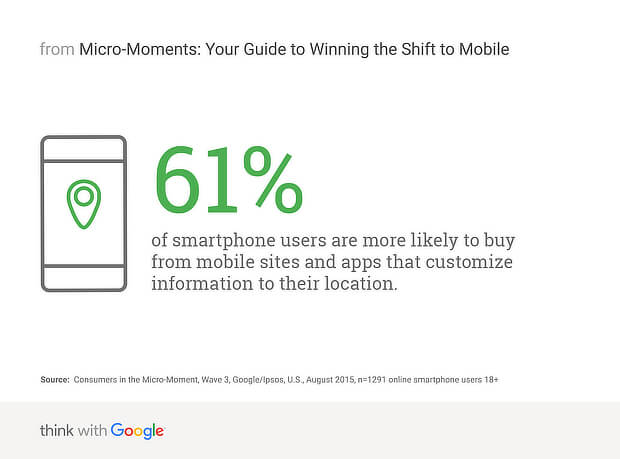 However, geomarketing isn't just for mobile devices. Many web browsers and devices provide location data, so geotargeting mobile marketing strategies can work for ALL your visitors.
The bottom line: integrating location data can help you improve conversions from the audience you most want to reach. For example, Denny's used geomarketing effectively to engineer a 34% increase in-store visits.
In this guide, we're going to show you the benefits of using geomarketing as part of your marketing mix. We'll include a geomarketing tutorial and examples you can use as inspiration for your own location-based marketing strategy.
As a starting point, let's define geomarketing, so we're clear what it is, and how it relates to other similar terms.
What is Geomarketing?
Geomarketing means integrating geographical data into marketing to deliver marketing messages related to your target audience's location.
Geomarketing can include:
Geotargeting, which is showing content to visitors based on their location, region, country, state, zip code, or other positional data.
Geofencing, which means using GPS data to target messaging to users only within a particular location or area.
While mobile and web users may report their location as part of interacting with a company's site, locations can also be detected by GPS, IP address, or even cell phone towers.
Benefits of Geomarketing
Geomarketing is proven to help improve local search positioning. The Kissmetrics data cited earlier shows that half of all web users only do business with the top three search results. So using geomarketing tools effectively can drive traffic, leads, and sales.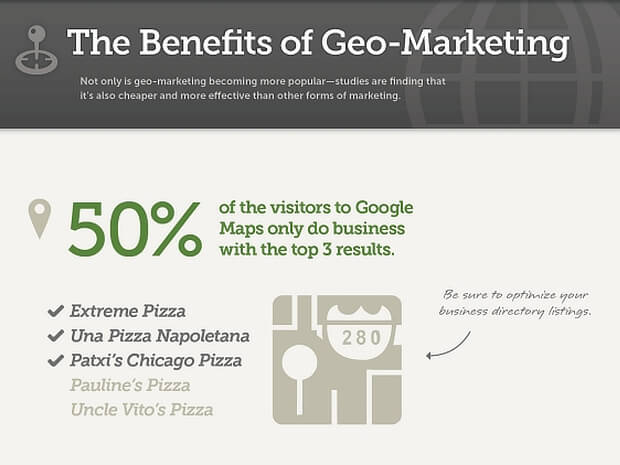 Geomarketing also helps you target mobile and social media users by using techniques like social check-ins to create more relevant offers.
In a nutshell, geomarketing makes it easy to engage your audience with quality, relevant content that's hyper-targeted to where they are now. And it can help businesses that operate both online and offline to cross-pollinate their offers, enticing mobile users to shop in-store, and vice versa.
6 Geomarketing Best Practices
Here are some best practices for using geomarketing effectively.
1. Know Your Audience
Like all marketing, it's helpful to start by defining your audience.
You'll be able to find how many of your visitors come from specific geographical areas via analytics software. In Google Analytics, you can navigate to Audience » Geo » Location to get an overview of the countries your visitors are from.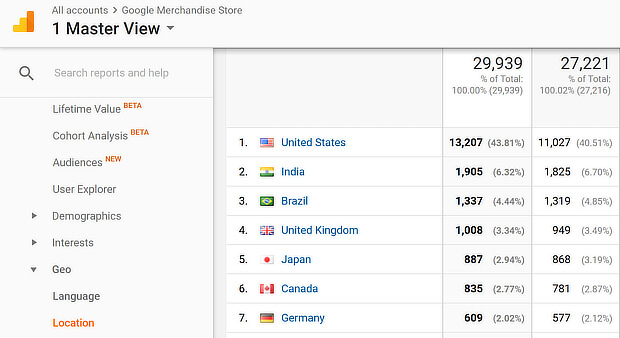 Click on a country name to break the chart down by local areas. For example, in the screenshot below, we're looking at US states.

Click again to see areas within a state:

You can also add secondary dimensions, for example, to see mobile users in a particular area.

Combine this information with what you already know about your customers from your buyer personas, and you'll know who you're targeting in which location for your geomarketing strategy.
2. Focus on the Right Locations
When starting out with geomarketing, it's also essential to focus on the right locations. As we saw, you can identify where your audience comes from as one way to do this.
But you can also use what Fortune calls "focal clustering" to get even richer data on what audiences are looking at so you can target marketing even more finely to their preferences and interests.
For example, if you know that a customer has visited a particular location multiple times, it's a no-brainer to highlight a deal that's specific to that location.
At the same time, you can determine which locations to exclude, based on what's relevant to your goals and your customers' needs at a particular time, as this SMX presentation shows: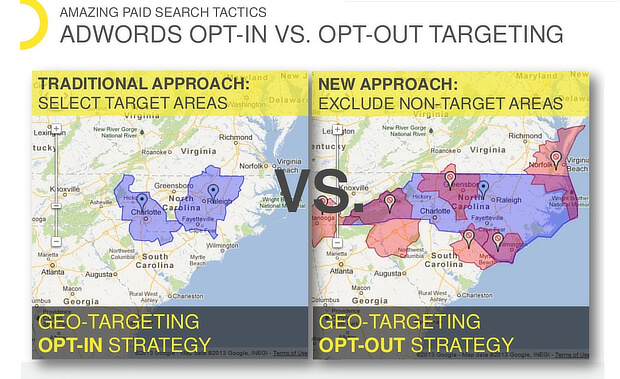 3. Set Goals
It's also essential to figure out in advance what you're hoping to achieve by geotargeting your marketing. Typical marketing goals related to local marketing include:
Getting more sales from a particular locality
Increasing brand awareness within a region
Successfully promoting a local or regional event to increase signups, subscriptions or attendees
Getting more traffic from a certain geographical area
Improving lead generation from a town, city, or state
You may also want to target new customers, launch new products and services, or build a presence in a new market.
Be specific about your objectives for your geomarketing campaign so you can easily measure success when it's done.
4. Optimize Content for Local Marketing
Next, make sure your website and content are set up for local marketing. This includes:
Using schema markup on relevant local business pages
Ensuring you have business listings on Google, Facebook and elsewhere
Optimizing your site for local SEO
This will make it easier to use a range of geolocation marketing methods, such as Facebook geotargeting or AdWords geotargeting.
You can also use this data to create local landing pages as destinations for consumers in particular areas. See our expert tips on landing page optimization for more guidance.
5. Time Your Campaigns
When you have location data and start to see patterns, you can time campaigns at the right time to get your audience to take action. There's no point in showing promos for breakfast deals when people have already eaten.
In contrast, if you know that certain users are in a specific area at lunchtime, that's the perfect moment to tempt them with a discount lunch coupon.
Timing geomarketing campaigns makes them even more relevant, and relevance drives interest and sales.
6. Get Personal
By now, most marketers know about the benefits of personalized marketing. Research from Accenture shows that 75% of consumers are more likely to buy when offers are personalized based on their past actions.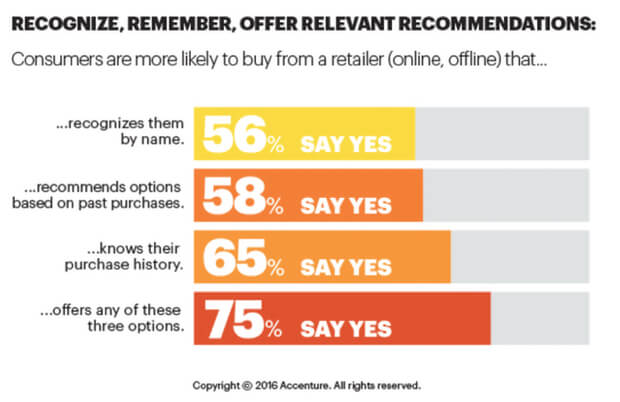 That's why personalization is one of the best ways to encourage action. Beyond using people's names, with geomarketing you can personalize campaigns based on where people are, what the weather is, what they've seen before, and much more. We'll show you how to do that with OptinMonster later in this guide.
Why Use OptinMonster for Geomarketing
If you're looking for geomarketing tools, OptinMonster is a good choice. Our geo-location addon lets you target visitors with geographically relevant offers. Since 61% of people would rather see relevant offers, catering for them is an opportunity you can't afford to miss.
With OptinMonster's geo-location addon, you can:
Show offers to visitors in different languages to target the 75% of people who'd rather see content – and buy products – in their own language
Create culturally aware marketing campaigns that take account of different holidays and customs
Ensure campaigns are relevant so you're not marketing winter coats to Florida residents
Use advanced targeting rules including page-level targeting, exit-intent technology®, and device-based targeting to fine tune your geomarketing strategy
You can also trigger geolocation marketing campaigns at specific times with campaign scheduling. And you can assess the success of your strategy with OptinMonster's built-in conversion analytics dashboard.
IMSource used OptinMonster's geo-location addon to increase conversions by 6500% from international visitors.
How to Use OptinMonster's Geo-Location Addon
Here's how you can use the geo-location addon for your own geomarketing campaigns. As an example, let's assume that you've seen an increase in overall searches for "how to create an Etsy shop" and "how to start an Etsy business" that seems to center on St. Louis, Missouri.
To take advantage of that, you want to create a campaign to promote a course you offer covering that exact topic, and you want to target St. Louis, Missouri visitors.
This is what our campaign will look like when we're done: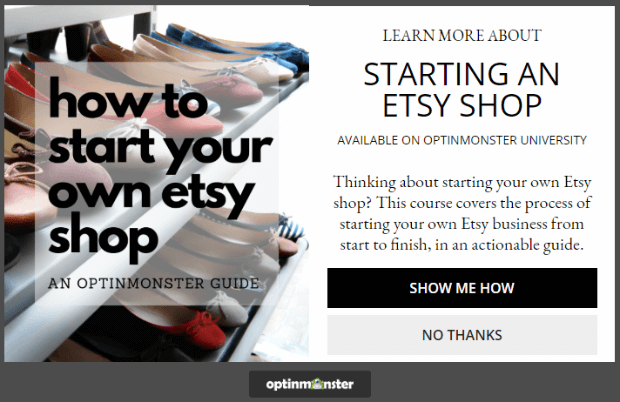 First, log in to your OptinMonster dashboard and click Create Campaign to start building a new campaign.

Choose a campaign type. We'll use the high-converting Popup campaign.

Select a theme. We're going to use Fashion.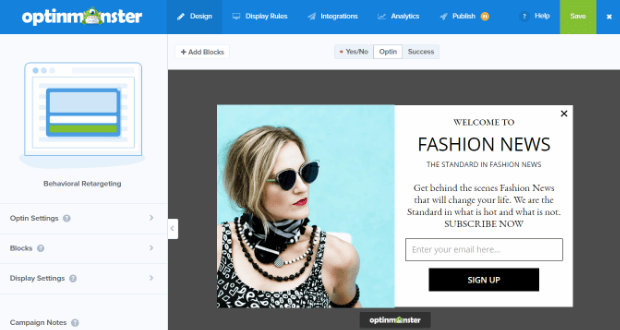 Name your campaign, and add the website you want to use it on. Press Start Building.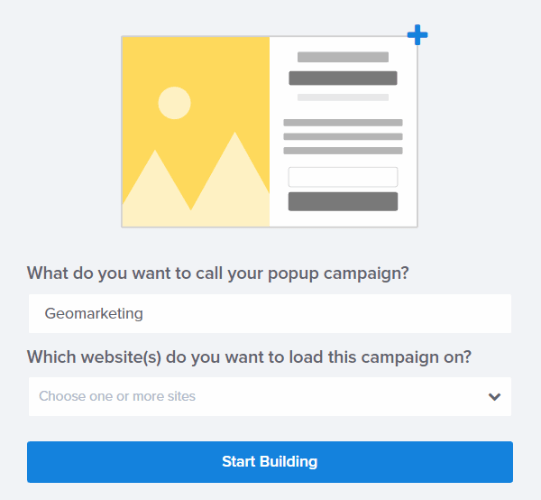 This'll take you to the OptinMonster campaign builder, where you'll see the default campaign.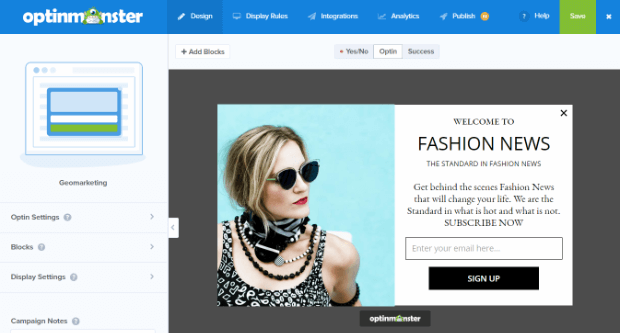 Let's start by enabling the Yes/No view. This type of an optin form converts really well because of the Zeigarnik Effect.
The Zeigarnik Effect simply means that when people start a process, they're more likely to finish it. To enable Yes/No just click on Yes/No and then click the Activate View button.

You'll see that the campaign looks just like the default campaign you saw when you first entered the builder, but instead of an email optin and a submit button, you have 2 buttons. The first button says "Yes, I want to subscribe," and the second says "No thanks."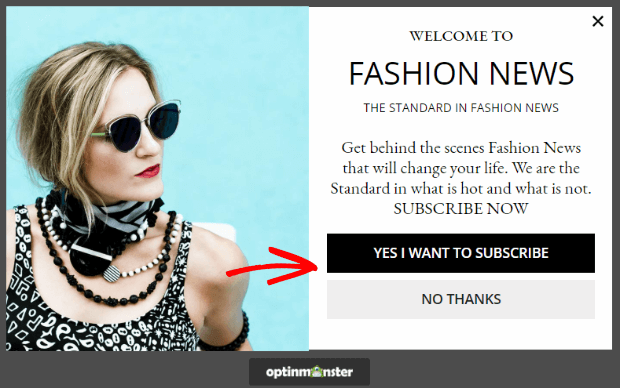 Add an image related to your campaign by clicking on the image area. If you need help finding images, try one of these free image sites.
Select or click on a text area to edit it. Editing tools will appear to the left, allowing you to change the font, text size, color, alignment and to add bullets and numbering.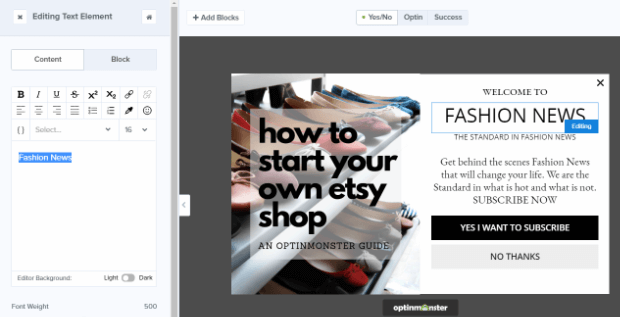 Click on the buttons. This will take you to Editing Yes/No Element toolbar on the left where you can edit the text and formatting for your yes/no buttons.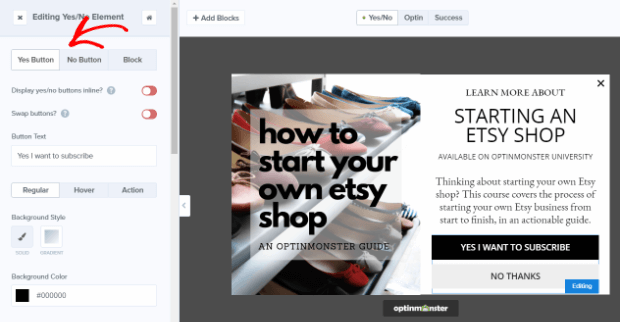 Next, since we want to redirect visitors to the course website, we need to enter that as our Yes button action.
To do that, make sure you're on the Yes button, then click on the Action section. From there, set the Button Click Action to Redirect to a url and enter your URL in the Redirect URL field.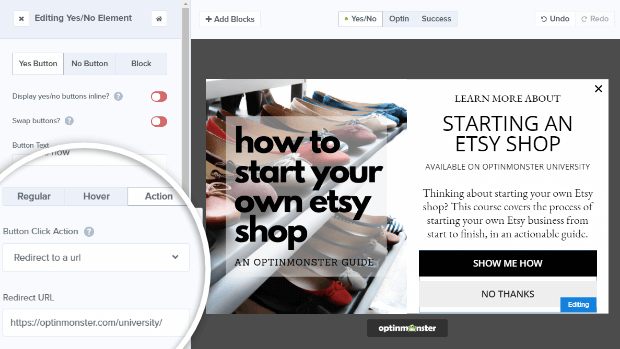 You can follow the same process to edit the No button. In this case, we've left the default action of Close the campaign.
Save your campaign by click on the Save button in the top right corner of the builder.

Next, let's put the geolocation settings in place for our geomarketing campaign. Go to the Display Rules tab and set a condition to If visitor's location is and enter the location you want to use in the text field. In our case, we're using St. Louis. Then click Validate.

Once you click Validate, a list will come up. Choose the location you want from the list. In our case, only one result came up.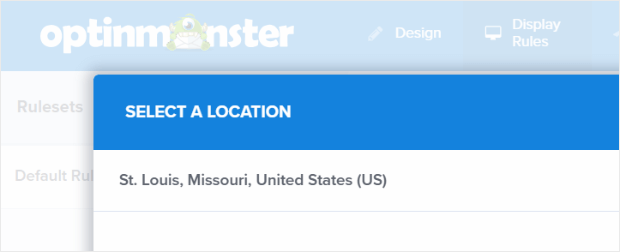 Save your campaign.
You can publish to any website via an account-wide embed code, and can also publish your campaign via a shareable MonsterLink™, Shopify or WordPress. There's also campaign-specific embed code you can share with your web developer.
If you wish, you can make your geomarketing campaign even more specific by making the campaign available at a particular time of day in the visitors' home time zone (or your own).
To enable this, go to Display Rules and set a condition to show the campaign based on the current time. You'll have options like is before, after, on or before, etc. Then, you can set the time you want.

Learn more about this in our tutorial on how to schedule marketing campaigns.
That's it! Now you know how to use geomarketing to boost conversions among visitors from different locations.
Next, try integrating geomarketing into your travel industry and restaurant marketing, which are two areas where geo-location marketing can help win business.
And don't forget to follow us on Twitter, Facebook, and YouTube for more in-depth guides and tutorials.